It's well known North American bicycle infrastructure lags far behind European cities and others through out the world but there is hope!
Quick Build Bicycle Infrastructure
Though countries such as Denmark and The Netherlands have spent decades focusing on improving the ability to traverse cities via bicycle, North American cities have largely focused solely on automobile infrastructure. Fortunately, advocates and city leaders have started to find ways to implement rapid change. These experimental transformations can be done inexpensively by utilizing various "quick build" methods. Recently, these methods have begun creating "minimum grid" networks of bicycling infrastructure.
What is a Quick Build "Minimum Grid"?
A quick build minimum grid is a connected network of protected cycling infrastructure that allows people to reach their destinations safely, conveniently and comfortably by bike, e- scooter or other micromobility vehicles. The objective is to quickly build out a small network to allow riders to reach significant destinations in order to see substantial progress and allow those who want to ride but are too afraid under current conditions to move safely through out the city.
"Minimum grid" was first coined in the early 2010's by international bicyclist advocate Gil Penalosa. Now cities across the world have kicked into gear establishing their quick build "minimum grids" in order to quickly and effectively connect citizens to their most important destinations. Toronto, Honolulu, Tel Aviv, Paris, Nairobi, London and many other cities have worked rapidly to establish these quick build networks. Here is a look at few recent ones in North America.
Edmonton Downtown Bike Network
In Edmonton, over 4.5 miles of protected bike lanes were installed at one time to instantly create a small network of protected cycling infrastructure known as the "Edmonton Downtown Bike Network". This minimum grid was an instant success, with ridership doubling immediately according to automated bike counters.. After the first year, it was recorded bicycle ridership had increased 132%.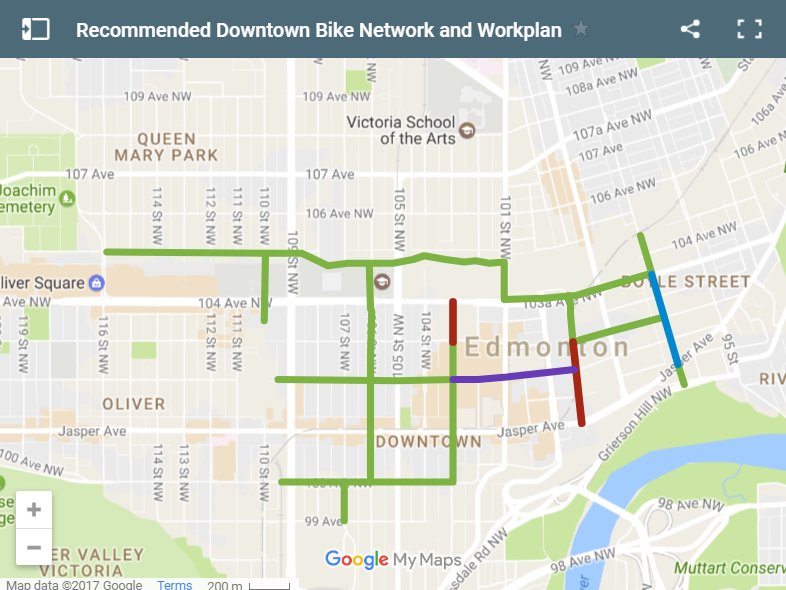 Calgary Centre City Cycling Network Pilot
In Calgary, nearly 4 miles of cycle tracks were installed simultaneously to establish a minimum grid seemingly over night. The results were impressive with a ridership increase of 95% in the first year alone. These new cycle tracks were strategically positioned to connect neighborhoods, significant destinations, and existing riverfront trails.
San Francisco Vision Zero Quick Build Projects
Following Mayor London Breed's request for faster implementation of Vision Zero Progress, SFMTA Board of Directors passed a resolution in 2019 enabling the agency to quickly and efficiently build out projects to improve the safety conditions for all users with an emphasis on bicyclists, pedestrians, and transit riders. San Francisco's quick build projects include protected bike lanes that quickly filled in the missing gaps of their current bicycle infrastructure network and is a part of the Mayor's efforts to build 20 miles of protected bike lanes in two years.
Jersey City Quick Build Network
In Jersey City, the town of 285,000 residents went from zero protected bike lanes to 10 miles of protected bike lanes in just over one year's time using low cost, quick build methods to create a growing minimum grid network. The Ride JC plan calls for a total of 46 miles of protected bike lanes connecting all corners of the city.
After the rapid implementation of the protected bike lanes, city officials witnessed a 205% increase in bicycle trips along a newly installed protected bike lane corridor.
Kansas City, Missouri
Could KCMO establish a quick build "minimum grid" network? Absolutely yes. In fact, in 2020 city council passed a resolution to complete five Vision Zero quick build projects before the end of this year! Could one of those projects be a quick build cycling network? We don't see why not!
In our next post, we'll explore what a network in KCMO might look like if 10 miles of protected infrastructure was built out like Jersey City did last year.
Stay tuned!